Facebook – medium komunikacji marketingowej w ochronie zdrowia
Magdalena Syrkiewicz-Świtała
Słowa kluczowe:
marketing communications, social media, social media marketing, health care
Abstrakt
Facebook is one of the most popular social networking sites. Via Facebook it is possible to determine very accurately the marketing messages for a target group. A precise profile is created to describe the behavior of consumers on the health care market. It provides the opportunity to use the medium in health promotion. Objective: The indication of possibilities and needs to use the medium of Facebook in marketing health care communication. Review paper based on secondary sources. In 2014 Facebook was used by 13.3 million Poles in various age ranges. There has been a growing tendency to actively use this medium. The strength of Facebook is the ability to establish direct relations, two-way communication and weakening confidence in traditional media. People seek and exchange the information on health and medical services. Institutions, medical companies that exist on the health care market try to exist in social media. Facebook is becoming a significant medium on the Polish healthcare market. In addition, it enables very precise targeting messages to specific audiences which enhances the effectiveness of health-promotion messages and health education. It helps to build trust and thus a good image of enterprises operating on the healthcare market.
Bibliografia
Amrita, Biswas D., Health Care Social Media: Expectations of Users in a Developing Country, "Medicine 2.0" 2013, vol. 2, no. 2, http://www.medicine20.com/2013/2/e4/ [dostęp: 4.05.2015].
Dorenda-Zaborowicz M., Marketing w social media, "Nowe Media" 2012, vol. 3.
Dryl T., Komunikacja marketingowa z wykorzystaniem mediów społecznościowych jako źródło sukcesu, "Zeszyty Naukowe Uniwersytetu Ekonomicznego w Poznaniu" 2011, nr 171.
Evans W.D., How Social Marketing Works in Health Care, "British Medical Journal" 2006, no. 332 (7551).
Frąckiewicz E., Marketing internetowy, Wydawnictwo Naukowe PWN, Warszawa 2006.
Kulka M., Koszty firmy w social media, "Marketing w Praktyce" 2014, nr 2 (192).
Lisowski Sz., Jak się reklamować na Facebooku, "Marketing w Praktyce" 2014, nr 4 (194).
Marcinkiewicz C., Nowoczesna koncepcja komunikacji marketingowej jako dialog przedsiębiorstwa z otoczeniem [w:] Pragmata tes Oikonomias, red. P. Ucieklak-Jeż, M. Kulesza, Wydawnictwo Akademii im. Jana Długosza w Częstochowie, Częstochowa 2011.
Marketing przy kawie, 2015, www.marketing-news.pl/modules/showimage.php?img=27342_large.jpg&text= [dostęp: 30.05.2015].
McKinsey Report, 2011, http://www.intec.co.uk/wp-content/uploads/2014/08/Mckinsey-report-_-Soc-Bus-_-21.11.11.pdf [dostęp: 29.06.2015].
"Polish Express", 2014, http://www.polishexpress.co.uk/sprawdz-ile-czasu-spedziles-lub--zmarnowales-na-facebooku/ [dostęp: 30.06.2015].
Puchalski K., Internet a możliwości poprawy efektów edukacji zdrowotnej, "Studia Edukacyjne" 2012, nr 23.
Rak B., Jak zagaić w social mediach, "Marketing w Praktyce" 2014, nr 3 (193).
Ślipko Sz., Jak to robić w social media, "Marketing w Praktyce" 2013, nr 4 (182).
Styś A. (red.), Zarządzanie marketingowe w sferze usług, Wydawnictwo Akademii Ekonomicznej we Wrocławiu, Wrocław 2001.
Syrkiewicz-Świtała M., Kobza J., Marketing organizacji świadczących usługi medyczne [w:] Marketing w ochronie zdrowia, red. M. Syrkiewicz-Świtała, Wydawnictwo Śląskiego Uniwersytetu Medycznego, Katowice 2011.
Szymanek P., Na Facebook procentują pomysły, "Marketing w Praktyce" 2009, nr 12 (142).
Ustawa z dnia 15 kwietnia 2011 r. o działalności leczniczej, Dz.U. 2011 nr 112 poz. 654.
Ustawa z dnia 28 kwietnia 2011 r. o systemie informacji w ochronie zdrowia, Dz.U. 2011 nr 113 poz. 657.
Wang J., How to Really Be Winning, "Entrepreneur" 2011, no. 39, Business Source Complete, EBSCOhost [dostęp: 28.06.2015].
Weber L., Marketing to the Social Web, John Wiley & Sons, Inc., Hoboken, NJ 2007.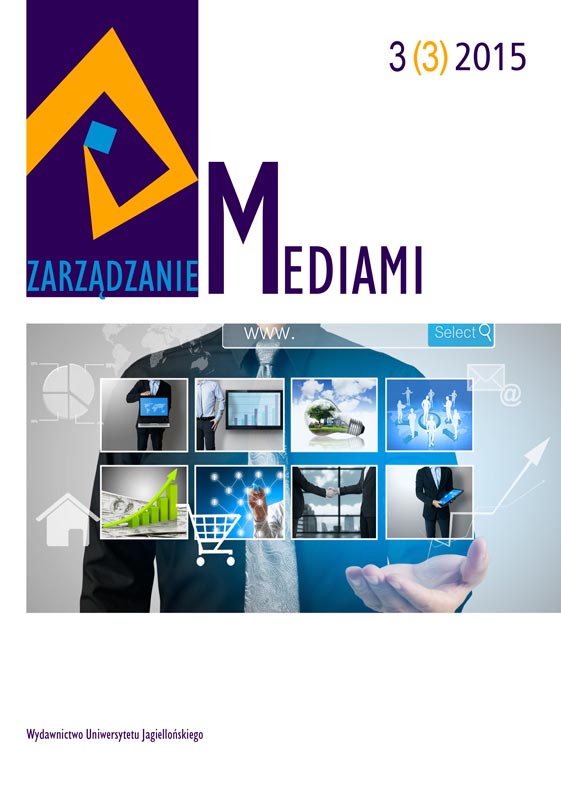 Jak cytować
Syrkiewicz-Świtała, M. (2016). Facebook – medium komunikacji marketingowej w ochronie zdrowia. Zarządzanie Mediami, 3(3). Pobrano z https://ojs.ejournals.eu/ZM/article/view/6449