Professor Tadeusz Estreicher (1871–1952), chemist, cryogenic scientist, historian of science, art lover, humanist, translator and patriot
Keywords:
Tadeusz Estreicher, cryogenic, history of science, history of art
Abstract
The chemist Tadeusz Estreicher was a student of professor Karol Olszewski. He was mainly involved in cryogenics, but his activities also covered many other fields of science, culture and art. He also devoted his time to social activities, especially during his stay and work at the University of Fribourg in Switzerland.
After regaining independence by his motherland, professor Tadeusz Estreicher returned to the country and began organizational and scientific work. He was associated with the Faculty of Philosophy (Department of Chemistry), the Pharmaceutical Department of the Jagiellonian University and the Academy of Fine Arts in Kraków.
In 1939 he was arrested during the Sonderaktion Krakau and stayed in the Sachsenhausen camp. After returning to Kraków, he took part in secret university teaching, and after the war he returned to work in the Collegium Chemicum of the Jagiellonian University.
When he passed away, John Read wrote in an obituary in Nature: "This remarkable man of science might well have taken for his motto: Homo sum: humani nihil a me alienum puto."
The aim of the paper is to remind the achievements of Tadeusz Estreicher and supplement his biography with new threads concerning his interests in art and contacts with the artistic community of Kraków.
References
Bałus, Wojciech 2009: Prawa dłoń Stwórcy w witrażu Wyspiańskiego "Stań się" refleksem odkrycia promieniowania rentgenowskiego? Polish Journal of Radiology 4 (74), ss. 112–114.
Betlej, Andrzej 2018: Welcoming remarks during the 7th Meeting 'X-ray and other techniques in investigations of the objects of cultural heritage' Krakow, 17–19 May.
Estreicher, Tadeusz 1895: On the Pressures of Saturation of Oxygen, Philosophical Magazine 40, ss. 454–463.
Estreicher, Tadeusz 1897: Ćwiczenia pisemne łacińskie z początku XVII wieku, Muzeum 4, ss. 257–260.
Estreicher, Tadeusz 1900: Ein Erdglobus aus dem Anfange des XVI. Jahrhunderts in der Jagellonischen Bibliothek, Bulletin international de l'Académie des Sciences de Cracovie, ss. 96–105.
Estreicher, Tadeusz 1902: Jak się dzisiaj przesyła myśl ludzką, Ognisko, Warszawa, ss. 28–41.
Estreicher, Tadeusz 1904a: O własnościach fizycznych tlenu w niskich temperaturach, Cz. I i II, Rozprawy Akad. Um. 44, ss. 105–132.
Estreicher, Tadeusz 1904b: Über die Verdampfungswärme von Sauerstoff und von Schwefeldioxyd, Z. physik. Chem. 49, ss. 597–608.
Estreicher, Tadeusz 1923: Trąd cynowy trumien w grobach królewskich na Wawelu. Nakład. Komitetu Doradczo-artystyczn. Restauracji Katedry Wawelskiej. Kraków.
Estreicher, Tadeusz 1925: Karol Olszewski w dziesięciolecie śmierci, Przegląd Współczesny, ss. 27–28.
Estreicher, Tadeusz 1927a: Z dziejów alchemii, Przegląd Powszechny, T.174, ss. 162–185. Dostęp online: https://www.wbc.poznan.pl/dlibra/show-content/publication/edition/139303?id=139303.
Estreicher, Tadeusz 1927b: Charles Olszewski et la liquefaction des gas. Publie en l'hnneur de la VIII Conference Internationale de la chimie pure et appliquee, Cracovie.
Estreicher, Tadeusz 1941: Z. Wróblewski and K. Olszewski the Siamese Twins of Polish Science. [W:] Stephen P. Mizwa (ed.), Great Men and Women of Poland. New York: Macmillan Co., ss. 263–277.
Estreicher, Tadeusz 1946: Na pograniczu historii filozofii i medycyny, Problemy 2, ss. 66–68.
Estreicher, Tadeusz 1947: Z historii nazw leczniczych II, Ślady magii w zielarstwie. Przegląd zielarski 3, ss. 225–237.
Estreicher, Tadeusz 1948: Brus i bruszenie, Język Polski 28, ss. 121–122.
Estreicher, Tadeusz 1949: Opowieść o Abu Kirze i Abu Sirze (przekład bajki z 1001 nocy), Przekrój, nr 200.
Estreicher, Tadeusz 1950: Jeszcze o wykolejeniach w Bogurodzicy, Język Polski 30(5), s. 210. Dostęp online: http://mbc.malopolska.pl/dlibra/docmetadata?id=102248&from=publication.
Estreicher, Tadeusz; Tomanek, Ludwik 1938: Chemia zdobyła świat. Kraków: Księgarnia Powszechna, ss. 277.
Historia, nauka, technika. Polska klasyka naukowa i techniczna w Sieci 2020: Tadeusz Estreicher (1871–1952) [wybrane publikacje]. Dostęp online: http://hint.org.pl/itd=n9d.
Jasińska, Anna 2019: Portrety profesorów Uniwersytetu Jagiellońskiego działających od 1800 do 1945 roku w zbiorach Muzeum Collegium Maius, Kraków.
Kamecki, Julian 1952: Prof. Dr Tadeusz Estreicher (1871–1952). Uczony i człowiek, Roczniki Chemii 26 (4), ss. 505–519.
Krupski, Jan dr (pseudonim Tadeusza i Stanisława Estreicherów) 1904: Szopka Krakowska, Towarzystwo Miłośników Historii i Zabytków Krakowa, Kraków.
Lohn, Anna 2013: Portrety profesorskie Leona Wyczółkowskiego, Opuscula Musealia, 20. doi: 10.4467/20843852.OM.12.006.1009/ Dostęp online: http://www.ejournals.eu/Opuscula-Musealia/2012/Volume-20/art/92/.
Paprocki, Jerzy 2015: Chemicy polscy w czasie drugiej wojny światowej, Chemik 69(5), ss. 314–316. Dostęp online: http://miesiecznikchemik.pl/wp-content/uploads/2015/06/chemik_2015_05-6.pdf.
Rafalska-Łasocha, Alicja 2015: Maria Skłodowska-Curie i jej kontakty ze środowiskiem krakowskim. Kraków: Wydawnictwo PAU, ss. 89–102. Dostęp online: http://pau.krakow.pl/index.php/pl/wydawnictwo/publikacje-on-line/inne/alicjarafalska-lasocha-maria-sklodowska-curie.
Read, John 1952: Prof. Tadeusz Estreicher. Nature 170, ss. 184–185. Dostęp online: https://doi.org/10.1038/170184c0.
Szczepaniec-Cięciak, Elżbieta 2000: Tadeusz Estreicher (1871–1952). Chemik, kriogenik, historyk i popularyzator nauki, publicysta. [W:] Złota Księga Wydziału Chemii, Kraków, ss. 183–191.
Środoń, Anna; Banaś, Marcin 2015: Wojenne losy globusa Jagiellońskiego i globusa Bylicy, Alma Mater 179, ss. 46–49, https://issuu.com/alma-mater/docs/alma_mater__179.
Zachemski, Jakób 1928: Sprawozdanie Dyrektora I Państwowego Gimnazjum im. Bartłomieja Nowodworskiego przedtem im. Św. Anny w Krakowie za rok szkolny 1927/28. Dostęp online: http://pbc.up.krakow.pl/dlibra/plain-content?id=1530.
Zbijewska, Krystyna 2017: Orzeł w kurniku. Z życia Stanisława Wyspiańskiego. Fundacja Promocji Kultury "Urwany Film".
Zięborak, Kazimierz 1995: Polscy uczeni we Fryburgu szwajcarskim. Przemysł Chemiczny 74(6), ss. 227–229.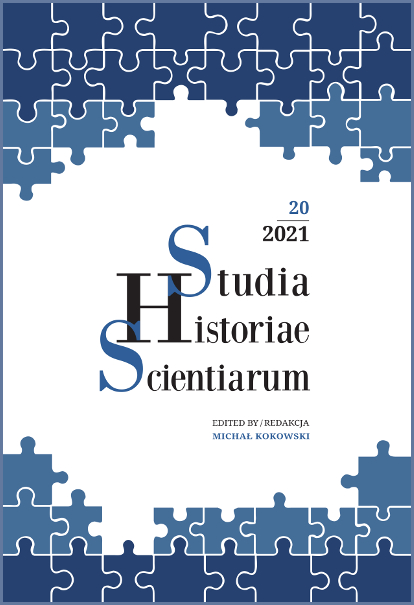 Downloads
How to Cite
Rafalska-Łasocha, A. (2021). Professor Tadeusz Estreicher (1871–1952), chemist, cryogenic scientist, historian of science, art lover, humanist, translator and patriot. Studia Historiae Scientiarum, 20, 167–190. https://doi.org/10.4467/2543702XSHS.21.006.14037
Section
SCIENCE IN POLAND
License
Copyright (c) 2021 Alicja Rafalska-Łasocha
This work is licensed under a Creative Commons Attribution-NonCommercial-NoDerivatives 4.0 International License.